Mastering Engineer and Musician
Adrian's whole life revolves around music. It always has.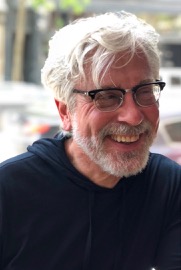 Trained as a musician and composer at Juilliard and Princeton, Adrian has a unique, global perspective on mastering. And let's face it. The ability to keep your eye on the big picture is one of the things that separate the pros from the noobs in mastering.

Adrian began his audio career as the recording engineer for the rock bands he performed in as a teenager in Buffalo. He was so good at it that he landed a full-time gig recording concerts at the University of Buffalo.

After graduating from Princeton, Adrian worked for various studios and music houses in New York City. In 1990 launched Adrian Carr Music Designs in midtown Manhattan, a studio that became recognized for its excellence in acoustic recording. In 1998, Adrian met Vlado Meller, the chief mastering engineer at SONY.  At that time, Vlado's clients included The Red Hot Chili Peppers, Barbara Streisand, Linkin Park, Rage Against the Machine, and Celine Dion. That really changed Adrian's trajectory! With Vlado's instruction and help, Adrian switched over to mastering and was able to open his own mastering studio.  During his 10 years in the Big Apple, Adrian worked in many genres from private projects to major label releases where he was able to gain experience and expertise.
In 2008 Adrian opened ACMastering, a division of his music company in Montreal, Canada where he worked with artists from Canada, US, England and Spain. After receiving his Ph.D. from Princeton University, Adrian moved back to the US to lead the music technology program at The State University of New York at Plattsburgh. He opened up his mastering facility in Plattsburgh, NY. 

Let Adrian's experience and vision bring out the best in your music.
Selected Discography
Culture Prophet: Truth and Honesty: Kingshead Records 2015
The Weight: Retrospective Remastered, 2014
Cece Giannotti: Live Recording DVD, Calle del Cid Records 2013
Said The Whale:Hawaii, Hidden Pony Productions 2013 (Juno Award)
Margaret Tobolowska: Piancelle, Enchanten, 2013
Stuart Francke/Bruce Springsteen, Heartless World, 2011 
Carole Pope: Landfall, Le Petit Mort, 2011
RadioZ: Alicante Spain  Release 2010
Ketch Harbour Wolves: Dead Calm Records Toronto, ON Release 2010
Isaac's Aircraft, Crash Records, London, UK    
Honor & Ashes: Projections, New York
Building Blocks, Blocks Recording Club- new compilation:The Brides:  Emma McKenna:  Pdf format: Shadow Self    The Pining   The Torrent:  Toronto, ON
Mr. DeMattos: Mr. DeMattos  Reggae Records, Toronto, ON
AAZED:  Those Who Worship Vanity Forsake Their True Loyalty  Ironcore Records, Ottawa, ON

Moralo: Mensonge Éternel  NF7 Productions, Québec

Suzanne Parayre: La Blonde du Poète Suzanne Parayre, Québec

Mikey T: Tonight  V1 Productions  US

Culture Prophet: Hustler  OZMachine Productions US

Rosi & Toni Grunschlag: Remarkable Performances Vol. 1 &2  Centaur Records  US

Victoria Jordanova: Outer Circles: Innova Records US

Madeleine Shapiro: Electricity  Capstone Records  New York

Marc Pelloquin: Night Chords: Music of Otto Luening  CRI Records  

Chen Yi:  Sparkle   CRI Records  

Ben Breen, violin and Milton Kaye, piano: Complete works of Johannes Brahms: Tall Poppies Records

Elenor Bindman/Susan Sobolewski: Out of the Blue, Duo Piano Ensemble

Rorem, Del Tredici, Baley and Hagen. American Song Composers Arsis Records/ECS Publishing

Zhou Long:  Music of China  Cala Records

Ubiquity Changed- Murray Hidary- Solo piano- Mad Dog Records

Music of Michael Dellaira – I Cantori Chorus , Albany Records

At The End: Music of Henry Mancini –Various Artists- Motown Records New York

Meditations – Ben Love – Motown Records New York

Pensando En Ti: Tania Solis: EMI Latin

Julius Katchen Plays Ned Rorem-LP Reissue – Deutsche Grammophon

Jeffrey Khaner – French Flute Music AVIE Records  

Soon Hee Lee:  French Song –– Musicika Records

Douglas Riva: Piano Music of Spain  Good Music Inc.

Christiana Fontanelli: Italian Favorites: Meadowlands Records

Mario Bertolino: My Favorite Songs - Meadowlands Records

John Browning: Music of Richard Cumming  CRI Records:

Elizabeth Lauer:I Love a Piano  I Virtuosi Records

Jennifer Higdon: Music of Jennifer Higdon I Virtuosi Records

David Tanenbaum: Last Letters from Stalingrad  New Albion Records

Harold Jones: Just As I Am: Antara Records

Browning & Gilcrest:  Duo Chant Prospect Classics

Sojourner String Trio: Journey
Archive Restoration
 Rosi and Toni Grunschlag - Duo Pianists
Hal Prince BroadwayArchive
Jonathan Sheffer Archive
John Grahm Anthology/Eastman School of Music Archive
John Brownlee Tenor Restoration
Elias Tannenbaum Archive
Timothy White Restoration and Archive